DIY investing - Become your own Financial Adviser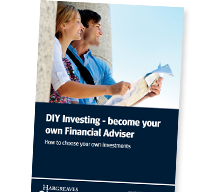 Request your free guide to DIY investing and become your own financial adviser
Spending a little time on your finances could reap great rewards and we think you will find it is a lot easier than you expect.
Hargreaves Lansdown PLC group companies will usually send you further information by post and/or email about our products and services. If you would prefer not to receive this, please do let us know. Your personal data will remain confidential, and will never be passed to any other company, unless required by law.

Reading this guide could be one of the best things you ever do. When I discovered DIY investing it was life-changing.
Ian Gorham, Chief Executive
In this free guide Danny Cox, Head of Financial Planning, sets out the simple, common sense steps to advising yourself on financial matters.
This free guide includes:
Tips to reduce your tax bill
Five basic principles to choosing investments
The two most common insurance mistakes - and how to avoid them
What to do when you approach retirement
Plus - the DIY financial adviser checklist
This guide is not personal advice. Please remember all stock market investments can fall in value as well as rise, so they should be held for the long term and you could get back less than you invest. Tax rules can change and the value of any benefits depend on your personal circumstances.

Verified by VeriSign
VeriSign has verified the rightful owner and operator of this web page. The seal verification also shows that this page has passed a daily malware scan.