Five shares for the long term
Equity Analyst Nicholas Hyett looks at five companies that could grow your money over the long term.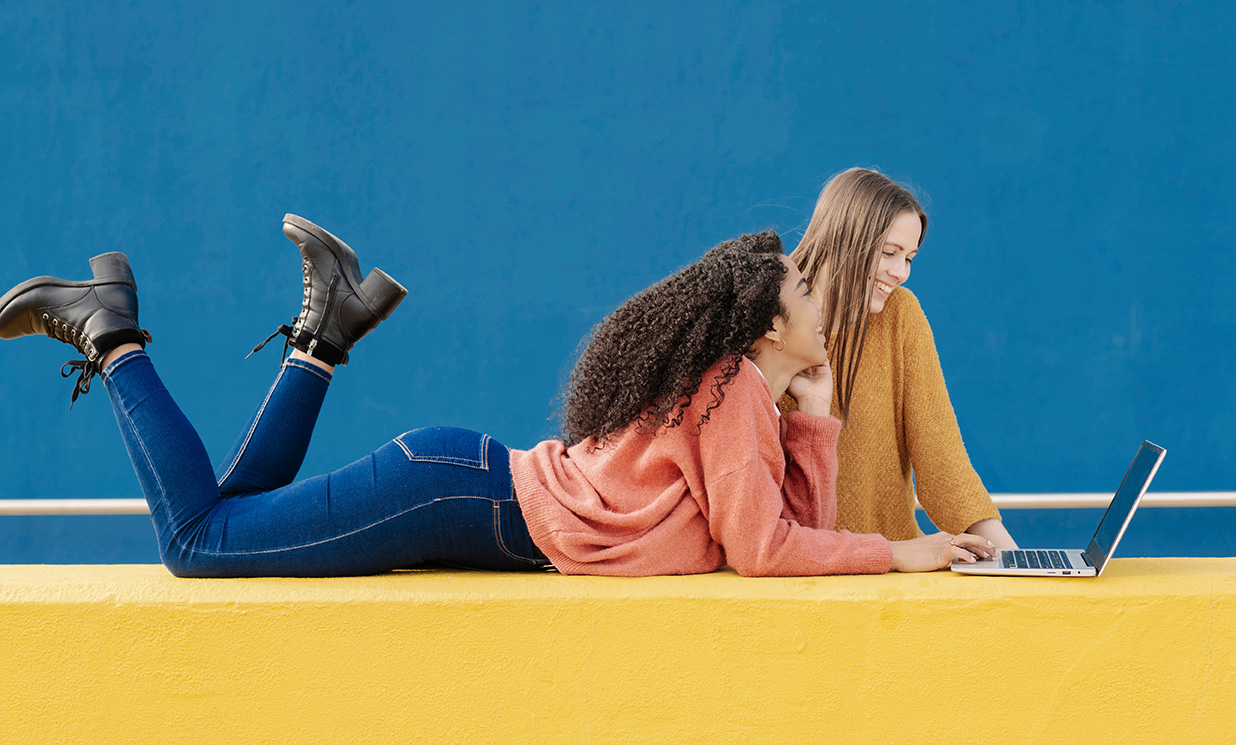 Important notes
This article isn't personal advice. If you're not sure if an investment is right for you, ask for advice. All investments and any income they produce can fall as well as rise in value, so you could get back less than you invest.
Nicholas Hyett, Equity Analyst
Young investors have a key advantage: they have time on their side. It's really important to have a long-term view when buying shares – finding good quality companies that you can hold for a long time. Doing this allows your investment to work hard for you, through compounding. This approach tends to have much better outcomes than trying to time the market, which leads to over-trading and can seriously damage your overall returns.
It can be tempting to invest in something because it sounds cool, or because it gets a lot of attention in the media. But these kind of investments tend to be higher risk, and can see their value swing wildly. People investing in their 20s and 30s, sometimes known as millennials, have a real opportunity to allow their money to grow over the long-term. Wouldn't you rather do that with high-calibre, lower-maintenance companies that you can hold for years?
We've dug through the UK market and beyond to come up with five such companies to take a look at. We think they could offer millennials a good starting point for long-term investing.
This isn't personal advice. If you're not sure whether an investment is right for you please seek advice. If you choose to invest the value of your investments will rise and fall, so you could get back less than you put in. Past performance isn't a guide to the future. Information correct 16 September 2021 unless stated otherwise.
Investing in individual companies isn't right for everyone. Our five shares for the long term are for people who understand the increased risks of investing in individual shares. If the company fails you risk losing your whole investment.
You should make sure you understand the companies you're investing in, their specific risks, and make sure any shares you own are held as part of a diversified portfolio.
Diageo
Booze never goes out of style
Diageo is one of the world's leading distillers, with a speciality in top and middle shelf liquor.
Premium spirits are an attractive market because brand strength counts for so much. Diageo's brands include Johnny Walker, Smirnoff, Gordon's, Captain Morgan's, Baileys and Guinness. Largely because its brands allow it to charge premium prices, operating margins were above 25% every year in the decade leading up to 2020.
DIAGEO OPERATING PROFIT
Past performance is not a guide to the future. Source: Refinitiv Eikon, accessed 09/09/21. Red bars are consensus estimates.
The pandemic dented sales as bars and restaurants shut down, but operating profits were relatively robust, all things considered. As the world returns to normal and drinking and dining out gathers pace, Diageo should see margins rebound quickly. There are attractions further afield as well.
A growing middle class abroad could be a key opportunity for Diageo with its international presence and stable of premium brands. As people get richer they want nicer things, and they want to signal to their peers that they can afford nicer things. Premium liquor ticks both boxes, and the trend towards higher shelf booze was well established prior to the pandemic.
We should flag that Diageo's carrying around a bit more debt than we're comfortable with. Net debt is hovering around £12bn and expected to continue climbing. That's 2.6 times cash profits and a bit higher than we'd like. Such a large debt obligation can make it more difficult to manoeuvre in troubled times, and limits strategic action if things are running smoothly.
Owning a stock of Diageo's calibre doesn't come cheap, though. Shares change hands for 26.4 times expected earnings—that's some way above the long-term average. The market's confidence in Diageo is warranted in our view. Still, it's important to realise that this level of enthusiasm opens the door for short-term volatility if the group doesn't live up to expectations.
Microsoft
Powering the tech revolution
Microsoft has been at the epicentre of the technological revolution we've been living through for the last few years. It's probably best known for its Windows operating system, but the group's used its position to pivot into adjacent spaces.
MICROSOFT REVENUE
Past performance is not a guide to the future. Source: Company accounts. Microsoft's financial year runs to 30 June.
Windows fits into the group's More Personal Computing arm, which accounts for roughly a third of the business. But some of Microsoft's more exciting growth opportunities can be found in its other two segments.
Intelligent Cloud, which houses Microsoft's cloud computing business, is probably the most promising from a growth perspective. Instead of spending big on servers and hard drives in order to digitise, most businesses instead rent space in the cloud. This trend has picked up over the past few years, but really came into its own over the past two years as more of what we do shifted online.
As one of the top cloud computing providers, Microsoft benefits from scale. Getting a cloud business off the ground is expensive, but once up and running, each new customer is almost pure profit – it doesn't cost Microsoft anything extra to let them use the service. But the real opportunity lies in Microsoft's ability to upsell sophisticated software to cloud clients. Microsoft has been ploughing cash into this part of its business to capitalise on demand for technical expertise.
The other third of Microsoft's business is Productivity and Business Processes, which is home to the group's suite of Office software. Software used to be something you bought as a one off, but Microsoft's office productivity programmes are now subscription-based. That means predictable revenue and impressive operating leverage—the cost to provide Office programmes to 1 person or 1,000 people are much the same. That helped operating profits rise 30% last year even though sales were only up 16%.
Microsoft's seen its price to earnings ratio jump from 8.7 in December 2012 to 33.8 at the time of writing. That puts it well above the long-term average and suggests the market is excited about the tech giant's prospects. We're inclined to agree, but it increases the risk of ups and downs.
National Grid
Powering the electric revolution
Utilities tend to be a staple for long-term investors because their predictable revenues and often higher-than average dividend yields make them attractive buy-and-hold stocks. National Grid (NG) is no exception—the group owns and operates electricity and gas distribution networks across the UK and parts of the US. It's well-covered, prospective dividend yield of 5.7% (as at 4 October 2021) is at the top end for income stocks, but what's unique about owning NG compared to some of its utility peers is the company's growth opportunities. Remember yields are variable and are not a reliable indicator of future income.
Utilities rarely fall into the growth category, but as the transition toward electric vehicles and clean energy gains momentum, National Grid is well-positioned to pick up steam. Management is seizing this opportunity with the purchase of Western Power Distribution (WPD), the UK's largest electricity distribution business. To finance the sale and avoid antitrust issues, NG will sell some of its US gas and electric assets as well as a majority stake in its UK gas distribution business. This opens the door for some execution risk—if the disposals don't go as planned, NG could find itself lugging around expensive loans for longer than expected.
We should note, UK regulators are sceptical about NG's position as owner and operator of the grid. That led Ofgem to recommend that National Grid separate itself from controlling the infrastructure it owns. This would be a blow to National Grid's electricity pivot—but it doesn't derail the investment case. It's role as an operator in both the US and UK accounts for less than 2% of overall revenue.
NATIONAL GRID OPERATING PROFIT
Source: National Grid 2020-21 Annual Report
The group's American assets are a big part of the story as well, making up just under 50% of operating profits before the WPD acquisition and asset disposals. This side of National Grid's business helps to soften the regulatory risks—UK regulatory decisions won't impact this arm and vice versa. Not to mention the US is also going full-throttle on the electric revolution, a move that will require a massive investment in upgrading the grid.
Shaftesbury
Unique assets at an historic low point
Shaftesbury is a Real Estate Investment Trust (REIT). It owns large chunks of prime central London property across Carnaby Street, Seven Dials, Chinatown, Covent Garden, Soho and Fitzrovia, mixing retail with offices and residential.
It'll be no surprise that the group had a pretty dreadful pandemic.
With most of its tenants forced to close, rental collection plunged. Just 53% of contracted rent got paid in the second half of the last financial year. Adding to the pain was a collapse in occupancy – vacancies at the end of 2020 stood at 10.2% compared to 2.9% in the ten years running up to the pandemic.
The combination of reduced rental income, increased vacancies and lower demand led the group to cut the book value of its properties by 18.3%, a fall after capital expenditure of £698.5m.
Many challenges from 2020 continue. Much of the 750,000 strong office workforce usually found in the West End continue to work from home, international travel isn't expected to recover until as late as 2023, and as late as August 2021 West End footfall remained just 50-60% of pre-pandemic levels. With Food, Beverages & Leisure making up the single largest section of the portfolio, rental recovery will drag.
SHAFTESBURY'S MIX OF PROPERTY USES
Source: Shaftesbury 2020 Annual Report
However, there are attractions for those prepared to take a longer term view.
A £307m share placing last year means the balance sheet is in better shape. The group reported a loan-to-value in March 2021of 25.4%, comparatively low for a REIT despite the big asset write downs. While we can't rule out another fundraise should new variants spark additional global lockdowns, the group no longer looks in dire straits.
We think Shaftesbury's unique properties will survive the digitisation of retail and workplaces, while its leisure assets are of global significance. If so this represents an uncommon opportunity to buy a stake at a modest valuation. Not only has the value of the properties themselves been hit, with potential to be revalued when conditions improve, but the shares are also trading on a price to book value of 0.83, relative to a ten year average of 0.99.
With potential for both properties and shares to re-rate, the effect on the share price could be considerable. Bear in mind though that this sort of capital gain relies heavily on market sentiment. Market sentiment is unreliable, and with a prospective dividend yield of just 1.4% (as at 4 October 2021) it may take years for investors to see the benefits. Yields are variable and are not a reliable indicator of future income.
Visa
Plastic's been fantastic
Visa is a payment processor. Regardless of who you bank with, your credit and debit card probably uses Visa or Mastercard to process your transactions. And the hygiene-centric mindset that's been triggered by the pandemic means cash is on the way out faster than we thought. A jet-fuelled path to a cashless society is a great opportunity for Visa.
Visa acts as a middle-man, connecting banks with merchants and taking a commission with each transaction. This strips out the risk of default. Even when you swipe a Visa credit card, it's your bank that's lending the money. So when buyers miss a payment, Visa isn't on the hook.
Plus, there's a lot of growth potential ahead. While it might seem that paying with plastic is old news, even some of the world's largest markets—like the US—are behind when it comes to contactless payments.
VISA REVENUE
Past performance is not a guide to the future. Source: Refinitiv Eikon, accessed 09/09/21. Red bars are consensus estimates.
That growth translates easily into profits for Visa as well. Once the costs to set up a network have been covered, each additional transaction falls nearly straight through to profits. That helped the group generate $6.1bn in revenue and deliver operating profit margins of 66% in the last quarter.
The pandemic did dent Visa's lucrative cross-border payments arm, but these are already showing signs of recovery. And we'd expect them to continue growing as travel picks up around the world.
There's another potential chink in Visa's armour—peer-to-peer payments. They allow individuals to transfer money directly from their bank account over the internet, and could disrupt Visa's dominance. So far, Visa's stayed out of the growing trend, but we think eventually it will have to make a move. The group's impressive cash generation means it might be able to wade into this market through acquisition.
Investors are well-aware of Visa's prowess as a payment processor, which means shares don't come cheap. At the time of writing, Visa was trading on a PE ratio of 31.3. Quality comes at a price, and Visa's strong positioning in an expanding industry could make it an asset to investors prepared to take a long-term view.
Unless otherwise stated estimates, including prospective yields, are a consensus of analyst forecasts provided by Refinitiv. These estimates are not a reliable indicator of future performance. Yields are variable and not guaranteed. Investments rise and fall in value so investors could make a loss.
This article is not advice or a recommendation to buy, sell or hold any investment. No view is given on the present or future value or price of any investment, and investors should form their own view on any proposed investment. This article has not been prepared in accordance with legal requirements designed to promote the independence of investment research and is considered a marketing communication. Non-independent research is not subject to FCA rules prohibiting dealing ahead of research, however HL has put controls in place (including dealing restrictions, physical and information barriers) to manage potential conflicts of interest presented by such dealing. Please see our full non-independent research disclosure for more information.
Important notes
This article isn't personal advice. If you're not sure if an investment is right for you, ask for advice. All investments and any income they produce can fall as well as rise in value, so you could get back less than you invest.