How to pick
income shares

?
So how do you pick the best income shares? Here's three things to consider.
Important – This information in not personal advice or a recommendation to buy, sell or hold any investment. The value of all investments and income can rise as well as fall, so you could get back less than you invest. Yields are based on past income, which means they aren't a guide to the income you'll receive in future. If you're not sure whether a share is right for your circumstances, please seek personal advice.
---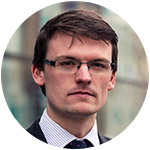 Nicholas Hyett
Equity Analyst
Do you know the only thing that gives me pleasure? It's to see my dividends coming in.

J.D ROCKEFELLER
Dividends are one of the main attractions of investing in the stock market over the long term.
Take a look at the graph below. It shows the value of £10,000 invested in the UK stock market 30 years ago with dividend income reinvested against taken as cash.
Past performance is not a guide to future returns. The value of investments will fall and rise over time, so you could make a loss. This graph is an illustration based on the performance of the FTSE All Share index and returns actually achieved by investors would depend on the performance and charges of the investments held. Source Lipper IM 25/07/2018.
The challenge is not only to identify companies currently paying a healthy dividend, but those able to maintain or preferably grow their dividends.
So how do you pick the best income shares? Here's three things to consider.
1. Don't focus on the dividend yield
At first glance, lots of companies pay good dividend yields. But it's unwise to invest on this basis alone.
Most dividend yields are backward looking – calculated by dividing last year's dividend by the current share price.
So, a company that paid a 4p dividend per share last year, with shares currently trading at 100p each, would show a yield of 4%. But if the share price unusually fell by as much as 90%, it still paid a 4p dividend last year, so the yield becomes 40%.
However, the reasons for the share price fall are more than likely to impact the company's ability to maintain its dividend – which will almost certainly be cut. While the yield says '40%', investors expecting another 4p dividend are likely to be disappointed.
2. Can the company afford its dividends?
Have a look at a company's 'dividend cover' – the number of times a company's dividend is covered by its profits.
It's a great way to see if a company can afford to keep paying a dividend, or even increase its payments.
If a company makes £100 million profit and pays out £50 million in dividends, its dividend cover is 2.
A dividend cover less than 1 means the company is paying the dividend out of previous profits. Unless future profits increase, it's unlikely the dividend will be maintained at these levels for long. But while a well-covered dividend offers reassurance, there are no guarantees.
Pinning down total profit and total dividend can be difficult when looking at company accounts, so look for per share numbers instead. All companies report profit on a per share basis, called earnings per share or EPS. Simply divide that by dividends per share and there you are.
3. Are the shares good value?
It's important to make sure the shares you buy are good value, but don't get too hung up on the pounds and pence price of the shares. As investing great Warren Buffet put it:
Price is what you pay, value is what you get.

WARREN BUFFETT
One way to do this is to look at a company's price/earnings ratio (P/E).
The P/E shows how much investors are willing to pay for £1 of the company's annual earnings. A company with a low P/E ratio is said to be 'cheaper' than one with a higher P/E ratio – £1 of current annual earnings can be bought more cheaply.
It's calculated by dividing the share price by the earnings per share. For example if earnings per share are 20p and the share price is £1, the P/E ratio is 5.
But looking at the P/E ratio in isolation risks being sucked into buying poor companies. A company's shares might be cheap because future earnings are expected to fall. Likewise, a company's shares might look expensive because future earnings are expected to grow.
To avoid that, try comparing the P/E ratio to those similar companies. Is the company cheaper or more expensive than rivals? Do you think it should be?
You can also look at a company's forecast P/E ratio. This uses analyst-estimated values for next year's earnings per share and could help identify any expected change in earnings.
Next steps: How to buy shares
You've picked which shares to buy. How do you do it? The good news is that it's much easier than you might think.
If you don't have a share dealing account, you could open one online today in minutes. Then:
Log into your account
Select the share you want to buy
Get a live price and buy, or set a limit
Buy shares in 3 simple steps
Ease of use, price, speed are the issues of greatest importance to me and HL measures up admirably.

MR LEWIN, Leyland