Share prices & stock markets
Deal shares online for just £11.95 per deal »
Search shares, ETFs & Investment trusts

| | | | | | |
| --- | --- | --- | --- | --- | --- |
| GBP / EUR | 1.4308 | | +0.0012 | +0.08% | |
| GBP / USD | 1.5530 | | -0.0034 | -0.22% | |
| GBP / AUD | 2.1105 | | -0.0001 | -0.01% | |
| GBP / CAD | 2.0518 | | -0.0017 | -0.08% | |
| GBP / CHF | 1.5202 | | -0.0021 | -0.14% | |
| EUR / USD | 1.0853 | | -0.0031 | -0.29% | |
| EUR / GBP | 0.6988 | | -0.0005 | -0.07% | |
| USD / GBP | 0.6439 | | +0.0014 | +0.22% | |
| AUD / GBP | 0.4736 | | 0.0000 | 0.00% | |
| CAD / GBP | 0.4874 | | +0.0004 | +0.08% | |
| CHF / GBP | 0.6572 | | +0.0009 | +0.14% | |
| USD / EUR | 0.9214 | | +0.0027 | +0.29% | |
| | | | | | |
| --- | --- | --- | --- | --- | --- |
| Silver | $14.55 | | -0.00 | -0.02% | |
| Gold | $1,085.59 | | -0.20 | -0.02% | |
| Palladium | $593.28 | | -0.86 | -0.14% | |
| Platinum | $945.65 | | -5.76 | -0.61% | |
| Oil WTI | $45.90 | | +0.06 | +0.13% | |
| Oil brent | $50.20 | | +0.63 | +1.27% | |
Prices delayed by at least 15 minutes | Preferences |


Hang Seng disclaimer
FTSE 100 Intraday Chart

Market closed | Prices delayed by at least 15 minutes | Switch to live prices |
Most viewed shares today
The most popular exchange traded investments held by Hargreaves Lansdown's clients.
---
---
---
More AIM & small cap news
Buy/Sell ratios
A snapshot of the most frequently traded shares through Hargreaves Lansdown over the past week.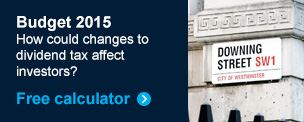 ---
---
---
More press & broker tips
---
---
---
More director dealings
No news or research item is a personal recommendation to deal. Hargreaves Lansdown may not share the views expressed in articles provided by ShareCast or other sources.
---
---
---
---
More business news
---
---
---
---
More share research
Detailed insight and analysis into four new companies with free share tips from Investors Chronicle every week.
---
---
---
---